It's day one of four of making dinner from scratch. It took me a couple of hours to make this, definitely a weekend-type recipe.
I took the foundation from from Gwyneth Paltrow's  It's All Good (turkey + black bean with sweet potatoes) and tweaked it to add more kick and ooomph. Her version was nice but a tad flat.
As I post more recipes, you will notice that I don't always exactly follow the directions. That's why my cakes collapse and my cookies are dry.
This was one of the few times I've made chili and it turned out very well.
I am so pleased to share this with you.
The ingredients from the original recipe are posted below along with what I actually used.
***
Serves 4
2 sweet potatoes cut inton 3/4 inch pieces (I used 1 really large)
olive oil (I used avocado oil)
salt
1 large yellow onion, chopped (I used half)
2 garlic cloves, minced (I used 6)
1 teaspoon of of ground cumin (I used a tbsp and a bit more)
1/2 teaspoon of sweet pimenton (I used pepper as I did not have this)
1/2 teaspoon of mild chili powder (I used a tbsp and a bit more)
1 pound of ground turkey, preferably dark meat (I used ground chicken)
A 28-ounce can of peeled tomatoes (chopped)
14-ounce can of black beans, rinsed and drained
I also added:
1/2 teaspoon of turmeric
Brown button mushrooms (chopped in large chunks)
4 tbsp of morita salsa that I bought pre-made (you can also use chipotle) **** key awesome ingredient ****
Gwyneth's optional ingredients:
Cilantro, scallions, pickled jalapenos, spicy cashew moment
Oliva's optional ingredients:
Cilantro, cheese, tortilla chips
1. Toss the sweet potatoes with some salt and bake (400 degree Fahrenheit) for 30 minutes.  Set aside and use this time to do your food prep.
2. Combine the onions, garlic, mushrooms, turmeric, cumin and chili powder and sautee in a pot for about 10 minutes. Make sure your pot is big enough. I had to transfer my ingredients to a bigger pot.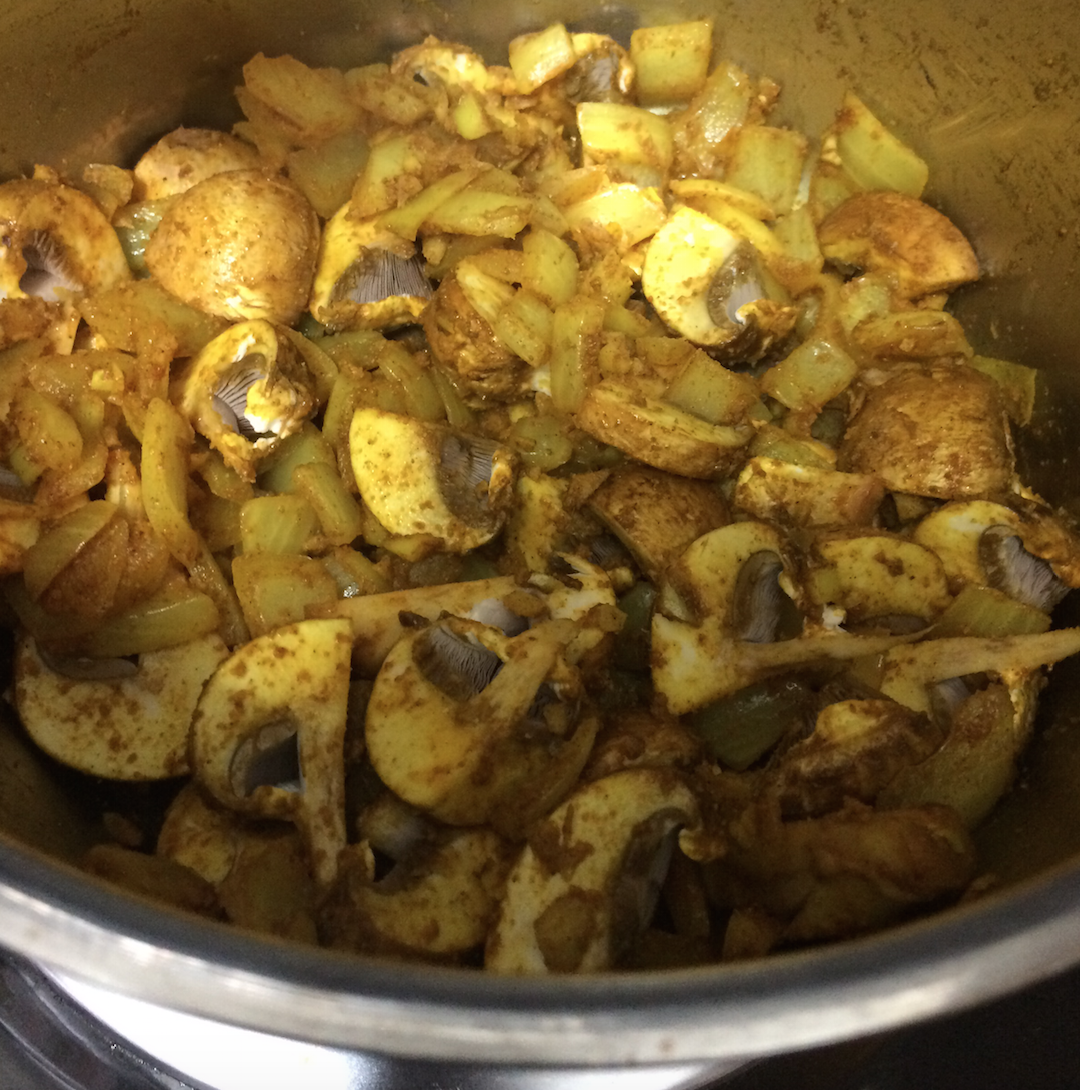 3. Add the ground meat,  good pinch of salt and slowly brown in low to medium heat. This will take about 20 minutes.
4. Add the morita salsa, tomatoes and a bit of the tomato water. Bring to a boil then turn the heat back to low and break the tomatoes with the spatula. Simmer for about 20 minutes.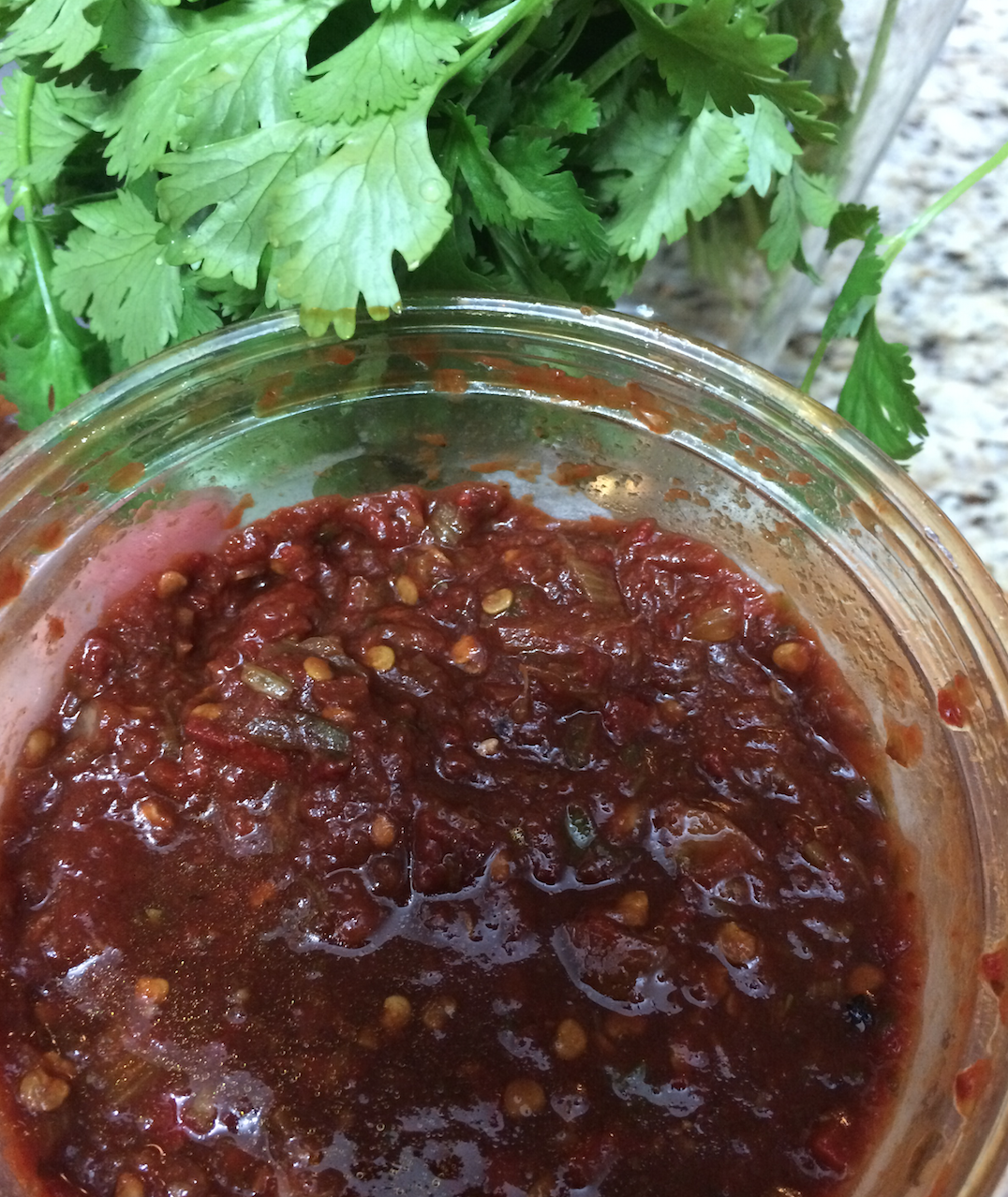 5. Taste to check the spices and salt at this point. Add more if needed.
6. Add the sweet potatoes and black beans and simmer for another 15 minutes (or longer depending on how thick you want it). T and I were starving so we did not wait for it to become really thick.
(Side note: while your chili is infusing, take this time to clean up your workstation. Wipe the counters, stack dishes in the dishwasher, throw away any veggie bits, wash the cutting board and knife, etc. Your wife/girlfriend will love you!)
7. Add your garnishes and serve.
Transform this dish into a vegan version by adding different varieties of beans and mushrooms.
Edit: Tomorrow, pasta and salad (still have to figure this out)…see you then! Leftovers